Park Guell Skip the line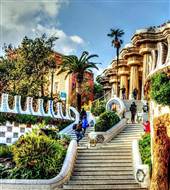 This park will give you an amazing view over Barcelona!
In 1890 Eusebi Güell instructed Gaudi to create on his terrain. Today, Gaudi's work here still captivates and amazes many visitors from all over the world. This extremely beautiful park is yet another one of Gaudi's masterpieces. The famous architect built the park filling it with glorious sculptures, colours and much more! The park is visited by thousands of people daily and for a good reason! Since 2013, and entrance fee became obligatory and queues to get tickets have become very long. If you purchase your ticket with us, you'll be able to skip the long line!

Let's not forget about the views! From the top of the Park Guell, there is a terrace where you will not only be surrounded by Gaudi's exquisite mosaics, but you will be able to see a marvelous view of Barcelona!

Location:
Carrer d'Olot, s/n
Barcelona, Spanien
How does it work?
It is very simple. Just select a timeslot when you would like to visit to book your ticket. Once you have entered the Park Guell, then you can stay as long as you want.
Other important information:
Disabled and companion tickets as well as tickets for children under 7 years old have to be purchased with at least one normal adult ticket.
Additional information:
When you get your ticket, access to the BUS GÜELL is included.
This shuttle service is a quick, direct way to get to Park Güell from the Alfons X metro station
(metro L4, BUS V19, H6). It only takes 15 minutes to reach Park Güell.
Your entrance ticket also includes the return journey to Alfons X on the Bus Güell.
Opening Hours:
from January 1st to March 28:
from 08.30 to 18.15 (last entry time at 17.30)
from October 25 to December 31:
from 08.30 to 18.15 (last entry time at 17.30)
from May 4 to September 6:

from 08.00 to 21.30 (last entry time at 21.00)
Mid season
from March 29 to May 3rd:
from 08.00 to 20.00 (last entry time at 19.30)
from September 7 to October 24:
from 08.00 to 20.00 (last entry time at 19.30)
Buy tickets online and skip-the-lines!
Tickets sent by email!
Powered by Ticketbar